THE BARDENS OF COOKS RIVER TEMPE
Joseph Thomas Barden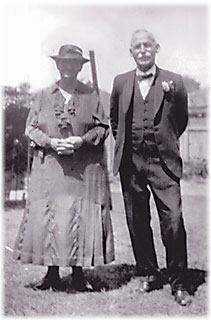 Our more immediate forbear, Joseph Thomas Barden, was born on 15/10/1863 at Cooks River Rd, Tempe. He married Julia Millicent Hart at St Mary's of the Suburbs, Macdonaldtown on 17/10/1888.
The Sands Directory of 1894 lists Joseph Thomas Barden of George St, St. Peters as "Wheelwright". Actually he was a coachbuilder and a wheelwright and it seems not unnatural that he would follow the original trade of his grandfather, Levi. A neighbour, Mr. Islip was a coachbuilder and it is highly probable that Joseph completed his apprenticeship with him.
Whilst they were in St. Peters, Julia gave Julia Millicent Hart and birth to Hilda Mary in 1889, to Clara Mary in Joseph Thomas Barden 1892, Bernard George in 1894, and the twins Elizabeth Josephine and Reginald in 1897. They then moved to Waterloo where John was born in 1899, and Mary in 1903. It was in this same year that Clara, at age eleven, was drying her long hair in front of an open fire when it caught alight and she died from her injuries. This tragedy may have prompted the further move to Mascot where my mother Kathleen Rose was born in 1906, and it must have been after this that they then moved to the family home at 24 Claude St, Chatswood. (House now gone)
Earlier, Joseph Thomas, a 'Frank' Barden, and a William Edward Hawkins had jointly inherited 36 acres of land at Tureel Bay, Port Hacking out of the estate of a Dominick Barden; and on 6/2/1891 they enacted a deed to 'partition' the land.
Strangely, three months before this, on 29/11/1890, Joseph Barden, given as residing at George St, St. Peters had managed to sell 2 acres of land at Tureel Bay to a certain James Mick(?) for £50. Ostensibly before the partitioning of the land!
When Joseph Thomas' father, Sidney Barden, died on 30/7/1870 the presumed family home in Albert Street, St. Peters went to his widow, Margaret, and their eight children. However, three of the children died in infancy and by 10/2/1898, when all the remaining children were well and truly over the age of 21, Margaret and the children sold the home for £30.
---
Acknowledgements | Origins of the Barden Surname | The Earliest Bardens | The Reasons for Migration
The First (Barden) Arrivals | The Bounty Migrants | Down to the Beautiful Valley
Publicans, Butchers, Produce Merchants and Landholders | A Family Business | The Barden Hotels
Items from Newspapers | Australian Men of Mark | Sidney Barden | Joseph Thomas Barden
Cooks River - A History
---
©2007 Peter Noone