THE BARDENS OF COOKS RIVER TEMPE
Origins of the Barden Surname
"A desolate splendour reaches down from the Pennine Heights merging into the quiet of the pastoral Eastern Dales, where the pace of life quickens on the fringe of industrial West Yorkshire. Most awesome of all is the massive natural limestone architecture of the scenery around Malham in upper Airedale. Towards the east, the limestone is overlaid by darker millstone grit, carpeted by sweeps of heather but breaking through in the dramatic outcrops which are among the sights of the area. Carvings on some rocks were left by strange pre-Christian cults.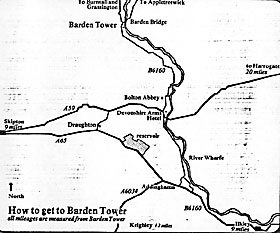 These dales are most accessible from West Yorkshire and here Norman barons built their castles, and the Church its religious houses, commanding the best routes through rich pastures along the valley floors."
This tourist guide description of West Yorkshire gives some idea of the setting for Barden village, which is almost certainly the origin of the Barden surname. Habitation in this area predates the Norman conquest of 1066, and the name most probably goes back this far, or even further.
Tradition has it that the name is derived from "Boar's Den" as wild boars once roamed the forests near the village of Barden. Cottle's "Penguin Dictionary of Surnames" confirms that Barden is a surname that records the locality where its ancestors originated and also supplies the information that "Barden" in old english can mean "Barn Valley", a place in West Yorkshire.
Between the towns of Bolton and Bursall near the Wharfedale River is an impressive ruin called "Barden Tower". The date of its original construction is unknown but it was rebuilt in 1485 by Lord Henry Clifford, known locally as the 'Shepherd Lord'. He preferred the peace and ###tower fell into disuse until it was again restored in 1658 by Lady Clifford. It was little used after her death and, in 1774, the roof was removed and the building allowed to fall into decay.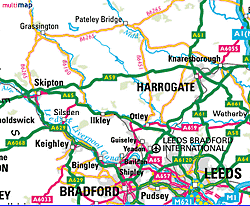 The name Barden spread to other english counties and a branch moved southwards from Yorkshire to an area around Hastings and Winchelsea in Sussex. And in the years 1835-1840 no fewer than eight Barden families migrated to New South Wales from this area - among them Levi Barden, his wife Mary and their nine children.
---
Acknowledgements | Origins of the Barden Surname | The Earliest Bardens | The Reasons for Migration
The First (Barden) Arrivals | The Bounty Migrants | Down to the Beautiful Valley
Publicans, Butchers, Produce Merchants and Landholders | A Family Business | The Barden Hotels
Items from Newspapers | Australian Men of Mark | Sidney Barden | Joseph Thomas Barden
Cooks River - A History
---
©2007 Peter Noone