THE BARDENS OF COOKS RIVER TEMPE
Down to the Beautiful Valley
In 1835 survey plans by Surveyor J Larmer were already being drawn up displaying the planned government road from Sydney to Cooks River. This road was to be continued by Surveyor Major Thomas Mitchell into the Parish of St George to the South Coast through Gannon's Forest and Bottle Forest. Mitchell's position was to open up the colony for farming and grazing by laying out new townships. He was to survey roads which would give access to Sydney.
Once again there was to be a subdivision of an original land grant. Thomas Smyth had been a sergeant in the Marines in the First Fleet. He was discharged in 1792 and became Superintendent of Government Stores in Governor Phillip's time and later Provost Marshall of New South Wales under Governor Hunter. Smyth received a grant of thirty acres of land by Lieutenant Governor Grose on the 8th January 1847. This was the usual amount of land granted to discharged military settlers. Later he was granted four hundred and seventy acres of land by Governor Hunter in 1799 in the area known as 'Bulanaming'. By 1840 it was to be known as the Village of Tempe.
Thomas Smyth died in 1805 and his four hundred and seventy acres at Bulanaming was bought by merchant and landholder, Robert Campbell who leased the land to Alexander Brodie Spark. The latter had been 'a merchant, shipowner, broker and underwriter, company director, banker and extensive landowner'.
In 1830 Spark purchased sixty three and one quarter acres from Robert Campbell. It consisted of the land from the eastern swamps to Cooks River, past Thorpes wharf and across the new road. He paid five hundred and six pounds for this land. On the 6th September 1838 he paid one thousand three hundred and ninety nine pounds, thirteen shillings and sixpence for another sixty six acres. The Village of Tempe was to be built on ten acres of this purchased land by Cooks River circa 1840.
Alexander Brodie Spark also purchased land circa 1827 on the southern banks of the Cooks River from William Packer's one hundred acre grant. It was on this land he was to build his spectacular home which was surrounded by beautiful trees and orchards. He named his home 'Tempe' after the valley at the base of Mount Olympus in Greece.
The position of 'Tempe House' and its well kept grounds was to become a venue for sightseers and picnickers. It would have been a days outing from Sydney and a trip to the 'country'.
"The Cook's River Road is every day becoming more a favourite drive with our Sydney folks."
People bathed in the 'tranquil waters' and a bath house was built on the northern side of the river.
After Spark built 'Tempe House' many gracious homes and properties began to appear on the landscape of Cooks River Road. The country atmosphere, spacious grounds and isolation were jealously guarded by their owners. This was most evident when suggestion was made circa 1872 to build a tramway from St Peters to Sandringham. These residents protested vigourously against the intrusion by this form of transport into this elite area.
The names of some of these properties were:
'Wanstead', owned by Frederick Unwin - c.1840
'The Poffle', owned by Leslie Duguid - c.1835
'Tivoli', owned by Richard Reilly - c.1840
'Lymerston', owned by Richard Was - unknown
'Bellevue', owned by George Talbot - unknown
'Hurlingham', owned by F Gannon - c. 1870
'Heathcote', owned by Thomas Chalder - c. 1850
'Barwon Park', owned by Adam Wilson c. 1840
'Barwon Park', owned by Adam Wilson was to be the venue for the 'Barwon Park Turf Club', which had its first race meeting in July 1855. 'Meetings were held every few months on holidays such as St Patrick's Day and Whit Monday. However the race meetings here did not last long. The course was too short as it consisted of only twelve acres of land.
Alexander Brodie Spark was to be responsible for initiating the building of St Peters Church in 1838 on Cooks River Road. The six acres of densely forested land on which it was built was donated by Robert Campbell. The church was built from funds provided by Spark and other land holders. The Foundation Stone was laid by Governor Gipps on 9th July 1838 in the presence of Bishop Broughton. The builder of the church was Henry Knight. In future years this man would be one of the defendants in the 'Great Newtown Ejectment Case'.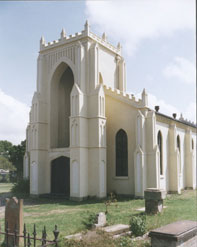 It is from this church that the suburb of "St Peters" gets its name.
Much of the history of Tempe has been recorded and preserved in the diaries of Alexander Brodie Spark.
St Peters Church was to become the parish church of the Barden family and another four generations of their families.
The Diocese of the St Peters Church was the Parish of Cooks River which was officially formed on the 19th May 1838. It 'included Newtown, Botany, Cooks and Georges Rivers, Petersham and Georges Hall to within three miles of Liverpool. The first chaplain of St Peters Church was the Rev. Thomas Steele.
The church of St Stephens in Camperdown, already mentioned was the parish church belonging to the parent church of St Peters. These branch churches alleviated the distance over which the chaplain of St Peters had to travel to see his parishioners.
The distance from Sydney to Cooks River was five miles; far enough by horse and buggy or coach to warrant a stop of convenience. This together with the fact that Bulanaming was a picnic spot led to the growth of nine public houses in this area. It was the end of the line of road before passage across the Cooks River had to be negotiated. There were two daily coaches that departed the 'White Horse Inn' in George Street Sydney for Cooks River. One left at 10.30 am and one at 5.00pm. The reverse journeys departed the 'Yorkshire Arms' at Cooks River at 8.00 am and 3.00pm. On Sundays there was only one journey from Sydney at 10.00am and the coach left Cooks River at 7.00pm.
In February 1839 steps were taken to build a dam across the Cooks River with the object of supplying water to the whole of the Sydney area through a system of pipes. By 1840 the dam was built, with the labour of one hundred convicts, 'fifty feet wide'. Unfortunately, the water remained salty and the dam which had been voted to cost £1,910 was a failure.
However, the massive stone causeway was to provide a passage over the river and further movements into the St George, which was proclaimed as a parish in 1835.
By 1848 the population of this area was six hundred and eleven people and one hundred and thirty two houses. The extension of Cooks River Road on the southern side of the river was one that led to Wollongong in the Illawarra area. Hence the early names, Illawarra Street and Wollongong Road. Today Illawarra Street has disappeared but its route is a combination of two roads, Arncliffe Street and Wollongong Road. On 8th January, 1864 a toll-bar was placed on the southern bank of Cooks River crossing.
During the 1841 economic depression the Bank of Australia failed and Alexander Brodie Spark who was a large shareholder fell on hard times. His debt amounted to five thousand pounds. It was the Australian Trust Company who foreclosed on his properties. By 1843 he was declared bankrupt. The Australian Trust Company insisted that his house, 'Tempe', be offered for sale at eight thousand pounds. The nearest offer was seven thousand pounds. To cover a debt of five thousand pounds outstanding, twenty acres of his land in Bulanaming which he had purchased from Robert Campbell was put up for sale. Alexander Brodie Spark died on 21st October 1856 at 'Tempe House'. It was soon after this event that there was a subdivision of his 'Tempe House' property on the south side of Cooks River. It was offered to 'Market Gardeners, Small Capitalists and the Industrious Classes generally'. It contained one hundred and two lots of one quarter to two acre blocks.
The area on the southern side of the river was to be called Arncliffe after pioneer Reuben Hannam's native place in Yorkshire.
This was to be the setting into which the Barden family were to move, work and live for the next seventy years. Members of the Barden family were to purchase twenty lots totalling some twenty-five acres in the subdivision of Alexander Brodie Spark's 'Tempe House' estate.
The survival of 'Tempe House' to the present day is a reminder of the picturesque setting and affluent period in which it was built by the 'tranquil waters' of Cooks River. Today it still retains some of its bush setting and has been owned by the Sisters of the Good Samaritan since 1885.
---
Acknowledgements | Origins of the Barden Surname | The Earliest Bardens | The Reasons for Migration
The First (Barden) Arrivals | The Bounty Migrants | Down to the Beautiful Valley
Publicans, Butchers, Produce Merchants and Landholders | A Family Business | The Barden Hotels
Items from Newspapers | Australian Men of Mark | Sidney Barden | Joseph Thomas Barden
Cooks River - A History
---
©2007 Peter Noone