Leslie John Noone 1902 - 1977
& Kathleen Rose Barden 1906 - 1985
Childhood Recollections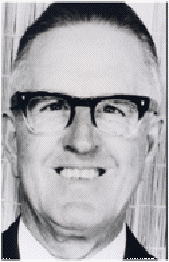 The main things I remember about my father are that he never used uncouth or course language. And I never even heard him use an expletive in our hearing except on the occasions when he would finally get up from the monthly phone call from his aunt, Sr. Rita, who was renowned for being able to 'talk the leg off an iron pot'! He always set an example of rectitude , and taught us honesty and truthfulness. And he was always ready with a helping hand. One of his sayings was that he would rather be taken advantage of nine times out of ten than to turn away a person in real need.
* * * * * * * *
Les Noone was born at Coolongolook on 11/10/1902, son of Alfred Noone and Mary Jane Burns. He was the eldest of six children, having two sisters and three brothers.
The family moved to Nabiac around 1905, where at 4-5 years of age he was milking two cows for the Forest Guard of the district. Les went to school at Nabiac, walking 3 miles there and three miles home each day, barefoot, until 1911 when they all moved to Gloucester and then to Stratford where Alfred had bought a bakery. Les is shown on the admissions register at Craven, around 3 miles from Stratford,as having been enrolled on 12/2/01917, aged 14 years and 3 ms. He left high school at the end of that year aged fifteen. He was put to work first in the bakery business, then at the local Post Office, and then a butchery, all separately owned by his father.
In September of 1918, aged 16 years, he was indentured for four years, his father Alf putting up the 60 pound fee, to John Elder Forsyth, a dental practitioner at Gloucester to learn "surgical and mechanical dentistry"; and in 1920 his apprenticeship was transferred to Dr. Frederick George Goldby, at Chatswood where he attended night classes to matriculate and also studied dental practice at night, before going on to Sydney University. When he came home to Heron's Creek on uni holidays he used to work in the sawmill.

| | |
| --- | --- |
| | |
| Mill at Heron's Creek | Mill Manager's House |
In his early days in Sydney he lived in the Redfern/Chippendale area (near Sydney Uni.) and later moved to 'Bulls' boarding house at Artarmon where he shared a room with Ted Armstrong who became a lifelong friend. The story goes that Les already had the room and Ted came to 'look Les over' before deciding whether to share with him. Ted fancied himself as a 'bit of a ladies man' and the two of them used to parade in the park on Sundays decked out in candy stripe blazer, straw boater and cane. Les even had a ukelele! Apparently, he used to play with a small band at bush dances.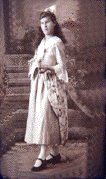 In 1922, aged sixteen, Kathleen Rose Barden was living at 24 Claude Street, Chatswood and working as a shop assistant at Snows Shoes, in Chatswood. She was the youngest of 8 children, having 4 sisters and 3 brothers; all born at Mascot. One day she took the afternoon off to go to the dentist. The dentist, Goldby, had a bad headache and went home but not before engaging her to 'put off' the other patients as they arrived for their appointments. Kath must have taken a liking to it because next day she gave notice at Snows and went to work for Goldby. While there, of course, she met Les who had been indentured to Goldby since 1920.
They married six years later, on 7/4/1928 at Our Lady of Dolours, Chatswood. With his studies finished in 1924, he was registered as a dentist in 1925 and in March of that year his father, Alf, lent him five hundred pounds ($1000) to buy Goldby's practice. Ted Armstrong was witness to the Sales Agreement. This first practice was located in Victor Street over Witchell's Drapers, and later on was moved to the corner of Victor Street and Victoria Avenue, above Curzons.
Their first home was rented in Baroona Road, Northbridge where Bette was born on 18/3/29, and later John on 17/1/31. After this they rented a home for a while in Bellambi Street.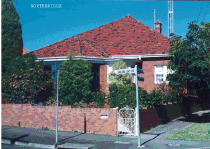 Then in October of 1933, Les purchased land from a Frederick Charles Weane, Sydney journalist, and built the house still standing on the corner of Sailors Bay Road and Gunyah Street, Northbridge, from where he also ran his practice right through till the war years. The boundaries of the house are unusual in that the side wall is right on the footpath, and there used to two doorways for entry to the surgery. This only gained Council approval because the site was zoned commercial. A grand feature were the rich jarrah floors in the entrance hall, the lounge, and the dining room.

These were the depression years, and Les was maintaining practices at both Chatswood and at Northbridge. Nevertheless, the mortgage on the house was discharged by 21/10/43. Margaret was born here on 16/11/33, and then me, Peter, on 14/11/37.
Les was exempted from active service during the war because he was in an 'essential' service and had four children. Though, he was required to treat the servicemen at the army barracks set up at the Sydney Showground. He also enrolled as an air raid warden. I remember the equipment supplied comprised a tin hat painted white, a bucket three-quarters filled with sand (which was so heavy that it could only be hand carried a few yards at most), and a contraption for extinguishing incendiary bombs that was made from a three metre length of galvanized downpipe capped at one end and flattened to a fishtail at the other, filled with sand, and also Les in wartime mode painted white. The 'uniform' was complete with a white tin hat, and a loose-fitting gas mask that had semi-opaque mica insets to see out of, and a canister of granulated charcoal to 'neutralise' any poisonous gases! The A.R.P., as they were called, used to have occasional Sunday drills which Les dutifully attended.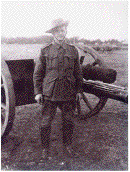 Our main precautions for the war were to protect the exposed windows of the side wall on Gunyah Street from bomb blast by coating them with a concoction made up of a thick varnish-like liquid with two inch lengths of brown string suspended in it. We had blackout screens for the other windows, and we dug an air raid shelter in the back near the chook yard (yes, we kept chooks in those days!) The shelter had about the same dimensions as a grave, and was covered with a sheet of corrugated iron and sand bags. As far as I can remember, it was always half-filled with putrid, muddy water.
Cars were fitted with louvres over the headlights and some were converted to 'charcoal-burners' because of petrol rationing, while still others carried a bag on the roof like an inflatable mattress filled with coal gas from the mains. In the vernacular of the period, a person who was very talkative, or 'full of gas', was usually referred to as a 'gas bag'.
There would be occasional 'practice' air raid warnings and we had to fit the blackout screens before the warden passed to chastise us if there were chinks of light showing; and not remove them until the 'all clear' sounded. The only real emergency came at 11.30 pm on 1/6/42 when two Japanese midget submarines entered Sydney Harbour and torpedoed HMAS Kuttabul killing 19 and leaving 10 wounded. All hell broke loose that night as sirens wailed all over Sydney and we kids were rudely wakened and bundled onto the floor of the linen cupboard which was lined on three sides with double brick walls, making it the strongest and safest part of the house.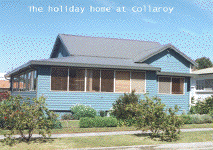 It was in the war years also that we began taking our Christmas holidays at Collaroy Beach. We rented the same house each year and at one time Les was thinking of buying it but the asking price of seven hundred pounds was too high! There was an army encampment just down the road made up of two or three soldiers sitting around a solitary tent. The beach had barbed wire entanglements and star shaped concrete blocks at water level to foil any landing craft. Fr. Folks, a priest who was stationed on Morotai Island used to come on these holidays and regale us kids with scary stories of crocodiles and headhunters.
On weekends, John and I used to go down to the beach early to make sand traps. These consisted of holes about 30 cms. diameter and 30 cms. deep covered with twigs and newspaper, then a layer of sand to camouflage them. We would mark their positions with a twig sticking up out of the sand and then wait for the unsuspecting bathers to fall into them. With hindsight, we were probably lucky that no-one ever broke an ankle!
On one of his early morning excursions along the rocks, John came across group of people recovering the body of a fisherman who had been washed off several days earlier!
It must have been before one of these holidays that dad and I "made" fishing line in the back yard. Nylon and monofilaments hadn't yet been heard of so the procedure was to buy a very long spool of two-ply sisal string and run it through a concoction which looked and smelt like varnish or linseed oil, and string it up to dry; after which it was stronger and waterproof. Ha Ha! It can't have been too successful as I have no recollection of ever catching any fish with it.
The upside of this was that, in those days, semi-professional fishermen would bring their boats in to the beach and sell their catch to waiting customers, straight out of the boat, still flapping.
These were also the few times when I had any close contact with my father, and I remember happy adventures wading in rockpools netting tiddlers to take home in a jar where they died by the next day. Even then, Les could only take the 'official' holidays and was soon back hard at work.
After the war we started going to Katoomba for the summer holidays. There was a guest house right at the top end of Katoomba Street run by people called Speirs, who might just have been distant relatives because there is a record of the marriage in 1926 of a Margaret V. Noone to Stanley A. Speirs at Kempsey. Strangely, Margaret does not turn up as related to any of our branch of the family, and may have been from the Noones who had moved to the area in 1864 from Geelong! The guest house had a public address system to summon the guests for meals and make other announcements. The microphone was in the front office and their son and I couldn't resist the temptation to play with it, making spurious announcements, etc.
One of those times, a public swimming pool was opened at Blackheath. It must have been one of the first of its kind because I clearly remember there was no filtration or chlorination and the "water" was a muddy cauldron of bodies mixed with literally thousands of clinging, jumping, small brown frogs! I don't know how long it remained open until some-one caught some dreadful disease out of it.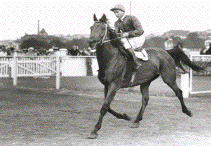 George Moore on Bragger
Les' love of horse racing was probably inherited from his father who used to ride in the picnic races, so in 1942 began an association with Tommy Smith, the dapper little man with a taste for fashionable hats and bowties who had overcome difficult beginnings to set up as a trainer at Randwick. Les became a one-third 'silent' partner in a horse called 'Bragger", and made a considerable financial contribution to its upkeep. After disastrous beginnings Bragger came good and chalked up an impressive record of thirteen wins and numerous placings. He was tragically burned in a fire in a horse float in 1946 and died weeks afterwards.
After this, there was another horse, "Protect", which had a few placings but never showed any real promise. This was followed by several others, but their names have been lost in the mists of time. Les often complained that they were expensive to keep.
Around this time Les and Kath started their annual motoring pilgrimages to Melbourne in November for the Melbourne Cup. Les bought himself a Homburg and started wearing it to the Saturday afternoon race meetings. I think he felt it made him look rather distinguished and important, and I must admit, it did make him look rather like a Macquarie Street specialist.
The first trip to Melbourne was quite an adventure as the Pacific and Hume Highways used to peter-out into little more than dirt tracks for long stretches, and it was actually necessary to keep asking for directions in order not to get lost along the way! Kath was never a great traveller and used to feel unwell as soon as she was pulled out of her normal surroundings, but she came to love these trips as they always stayed at the Hotel Alexander which with successive trips became for her another home away from home. For the first few of these absences, Aunt Mary (Kath's sister), her husband Tom Mahoney, and our cousin Ann used to come over to look after us kids and we took shocking advantage of them. I remember that two of my (our?) favourite dishes were pancakes (which mum hardly ever made except on Shrove Tuesday just before Lent started), and chocolate blancmange ( a dessert made from cocoa, cornflour, milk and sugar).
Around 1946, Bette, John, and Margaret went on a very hot gritty train trip to visit the grandparents in Pt. Macquarie and returned with a very appropriately named fox terrier pup called 'Nip'. Margaret recounts that she grew afraid of him as he got bigger, and she took to ringing the front doorbell after school instead of coming in the back gate and confronting one of Nip's onslaughts. Bette remembers that her school stockings were always full of holes around the ankles. One of Nip's proclivities was to jump up and tear the washing of the clothesline. Mum used to complain but this was glossed-over by Les until the time when his longjohns were reduced to shreds! That was the last straw and Nip had to go! Initially, he went to 'Nin', our then housekeeper, but after devouring a few of her chooks, he really did go for good!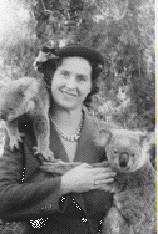 It must have been in 1947 or 1948 that Kath had a very serious operation ; I think it must have been a hysterectomy, but I was too young to know the details. Anyway, it was decided she needed to convalesce for two weeks at Southport, on the then unknown Gold Coast. I was co-opted to go with her and the flight to Brisbane was nearly the end of us. It was our very first flight; and on board an unpressurised four-engine DC6, we encountered severe headwinds such that the normally two hour flight went on for a living hell of nearly four hours. Everyone and everything was being thrown about the extremely noisy interior and mum and I looked, and were, both so sick that they seriously considered putting us on oxygen. And we were both carried off the plane when it eventually arrived in Brisbane. The sojourn at Southport was in a guest house which fascinated me for the aquarium in the lounge containing two lung fish, as I had never before seen or heard of fish with legs.
One day we were walking along the beach promenade when a pelican coming in to land on the water using poor sense of altitude clipped mum with its feet knocking her hat off and sending her sprawling. It shook her up quite a bit.
While we were away, dad took it into his head to repaint the kitchen cupboards. Today's paints flow on smoothly and are self-levelling. Paints then were typically enamels which required skilled application to avoid noticeable brush marks. Doing most of the work at night or in poor light, the result was anything but favourable, and mum threw a fit when she saw it. Poor dad!
It is hard to believe now, but when we were growing up there were lots of things delivered to the house , besides the daily newspaper, which just don't happen now. There was the ice man with large blocks of ice for the icebox (before refrigerators), the bread man, the fish man (on Fridays only), the man who came around about once a month selling clothes props, the 'rabbito', and of course the legendary milkman. Milk was delivered in bulk and the practice was to leave out on the front step a milk jug covered with an embroidered lace doily with little beads around the edges to keep it from blowing off or falling in the milk. At one time Les noticed that the water tap in our front garden was being used overnight and became convinced that our milkman was watering the milk and lay in wait for him one morning, ( he used to come very, very early, like around 2 a.m. or 3 a.m.) only to discover that the poor innocent fellow was only using our tap to wash out his containers before going on to the next house!
One of Les' extracurricular activities was the vegetable patch where he mostly grew lettuce and tomatoes. The garden was treated to large doses of 'liquid manure', a foul-smelling concoction made by adding water to poultry manure in a bucket and letting it ferment. We were never sure if this helped the growth or the flavour as the tomatoes were always attacked by fruit fly and other grubs long before they were ripe and mum was compelled each year to do a rescue operation by making large quantities of green tomato pickles.
The local church at Northbridge, St. Philip Neri, was well supported by Kath and Les, both spiritually and financially, and the tabernacle still carries a plaque in recognition of their donation. Fr. Richard Lyng, the parish priest for most of those years was a real Irish character and a frequent visitor to the house. Undeterred by the wartime shortages, he commenced construction of the new church in 1939 and it was completed in 1942 at a cost of 8,000 pounds; an enduring monument to his determination (and stubbornness).
Fr. Lyng had a weakness for tomato and onion sandwiches, and, we suspected, did not feed himself very well. I remember numerous Friday nights when the doorbell would ring to announce his arrival and Bette would be despatched to the kitchen to start making these sandwiches for his apparently insatiable appetite.
He was much loved by the congregation, and in 1954 the Parish sent him on a trip to Europe and Ireland where he caught up with his twin brother whom he hadn't seen since coming to Australia some thirty odd years before! Of the many tales he recounted on his return, one dealt with the Sacre Coeur in Paris where it had been indicated he would be allowed to celebrate mass on the High Altar. He presented himself on the appointed morning only to be shunted off by some snooty French priest to a side altar. Fr. Lyng was having none of this and, having no French, resorted to Latin and began insisting 'altare magna', 'altare magna'. The French priest capitulated and he got his way in the end. Although I do remember a rather colourful phrase about 'bopping him with a wedge' if he hadn't moved out of the way.
The church was still being paid off, so apart from the weekly collections (part of which were done by me on my bike, making personal calls to parishioners on Sunday mornings), there was the Catholic predilection for fund raising through the ubiquitous "Housie-Housie" (now called 'Bingo'), and the church hall on Saturday nights would resound to the calls of "Number eleven, legs eleven",etc. and excited cries of 'Housie" from the winners. They came from everywhere, not just Northbridge, in buses, hire cars, and taxis. As it was illegal to give 'cash' prizes, winners were given a chit and towards the end of the evening Fr, Lyng would wander over from the presbytery with a suitcase full of silver cups, which were then presented to the holders of the chits. Then he would adjourn to the little shed in the school grounds where he would redeem the cups for cash!
Kath and Les usually attended these Housie nights while Margaret and I at home would turn off all the lights and listen to "The Witches Tales" on the radio. Margaret, afterwards, being too frightened to go to bed without all the lights on; and Kath and Les wondering why the house was always lit-up on their return.
Les was a very early member of Manly Golf Club where he played Wednesday afternoons, and some Saturdays, and won a creditable collection of trophies. In his later years he became just as keen on lawn bowls and was a member at the Northbridge club.
He was an active member of the Australian Dental Association, and a foundation member and longtime President of the Northern Suburbs Group which recognised his great influence and guidance of its affairs by electing him to Life Membership.
Also he was a foundation member and strong supporter of the Appolonia Guild of St. Vincent de Paul, which did marvellous voluntary work on the children at the St. John of God Institute at Morisset.
In 1955 he joined the Catholic Action movement set up by Cardinal Mannix to combat the communist infiltration of the union hierarchy. This was all very hush-hush and Les would never tell us kids what he was up to; all we knew was he always carried a tightly-furled umbrella to these meetings (I think it was a recognition signal), so for us kids on these nights all we knew was that dad was going to one of his 'umbrella meetings'. This was the period of 'McCarthyism' in the U.S., and 'Reds under the Beds' in Australia, when the notorious Builders Labourers Union was controlled by a declared communist, Sharkey; and there was a very real threat of widespread industrial havoc brought about by union anarchy. It was one of few times in Australian history that the Catholic Church was actively involved in politics. It actually toppled the Labour Party of the time and spawned the Democratic Labour Party, or DLP. It was also the time of the Korean War when the unions, infiltrated by the Communist Party, refused to load war supplies bound for our troops overseas.
Les was also a foundation shareholder together with Martin Halas of a dental supply firm called Harcourt Neill. Halas was already importing dental equipment into Australia and was looking to set up a distributor that would service the dentists on a face-to-face basis.
The firm struggled for many years with increasing cashflow problems and owing more and more to Halas who was its principal (only?) supplier. It seems that most dentists are fairly slow payers. Eventually, however, the business came good and in some years was paying up to a 25% dividend. It and Halas were finally taken over by a New Zealand pharmaceutical company.
In the 1940's and 50's, when people came for dinner the custom was for everyone to help wash-up in the kitchen and afterwards to congregate around the piano for a singalong with Bette or Margaret playing. Great friends of the family were Alma and Jack McGowan who shared a similar love of horses and horse racing as Les. One of Jack's other loves was Australian poets and he was given on many occasions to recite long verses from Banjo Patterson and Henry Lawson.
We used also to have card nights, the most popular games being Radio Rummy; or when we were playing for pennies, Pontoon, a form of blackjack.
Long before 8 mm. movie cameras were in popular usage and the term home movies was invented, we were treated to unique privileges on Saturday nights when Jack McGowan would rent a 16 mm. projector and an old movie and we would all sit enthralled in their lounge room watching. Of course there were the inevitable mishaps like a lamp burning out or the film being loaded backwards, or tearing, but for us, Saturday nights at McGowan's were something really special.
These were also the days when the 'Sunday drive' with all the family was a well-entrenched institution, almost mandatory. It probably had something to do with the relaxation of petrol rationing following the end of World War II. At any rate, Les had a great habit on these runs of taking 'shortcuts' to our destinations which usually ended up in dead-ends. We used to maintain that dad new every dead-end in Sydney. He maintained that he was just looking for a more interesting way to get there.
Being four years older than me, Margaret was out of school and going out at night whilst I was barely in my teens. We started a ritual where I would climb into her bed on a Sunday morning and she would recount to me the plot of the movie she had seen the previous night. After a year or two of this, dad stuck his head in the door one Sunday to comment, "Aren't you two getting a little too old for this?" I was out of that bed in a flash, burning with embarrassment, and we never did it again.
On 1/5/53 Margaret had made the momentous decision to enter the Loreto Order, so Kath, Les, Margaret and I went by car first to Melbourne where we stayed overnight at the Hotel Alexander, the favoured hotel for the Melbourne Cup excursions; and then on to Ballarat where we stayed at Craig's Hotel. On that 'last' night (before entering the cloisters of Mary's Mount), Margaret and I went across the road to the Ballarat Movie House to see "Our Hearts Were Young And Gay", a 1944 movie starring Dorothy Gish and Gail Russell, among others; the story of two young women in the 1920's finding excitement and romance while on vacation in Europe. It included the famous scene where the two girls are guests in a bedsitter in London and warned by the landlady to "watch out for the old geezer in the bathroom!" The 'geezer' really being the English term for the 'geyser' or gas water heater over the bath.

It was at the Loreto Abbey at Ballarat that I was to meet the second person in my young life who appeared capable of the phenomenon of levitation. The first exponent had been Johnny Nelson, a 'pillar of the church' at Northbridge, commonly referred to behind his back as 'Angel Foot', who habitually proceeded around St. Philip Neri's without touching the floor! This second was Mother Teresita, the Mistress of Novices, who floated along in her own spiritual world at least two inches off the ground. I am sure the novices had a nickname for her as well.
Loreto was a semi-enclosed order at that time, and Margaret was permitted one visit a month. So at year end, Les got the brilliant idea that we would go down to Melbourne by sea! As an adventure. There were still large passenger ships plying the coastal routes, so Les, Kath, and I boarded the P & O liner 'Strathaird' for Melbourne and then took the train to Ballarat. We all liked the novelty of shipboard life, if only for a few days, but were a bit queasy rounding Wilson's Promontory where the full force of the 'roaring forties' hits. For the return journey we were on the sister ship, the 'Stratheden', and I had managed to be a 'good sailor' right up until dawn of the last day when we were stationary off Sydney Heads in a heavy swell waiting for the pilot. The ship was neither pitching nor rolling, but heaving up and down. At breakfast, with the dining room about three decks below the promenade deck, Les took it into his head to order kippers. I had ordered bacon and eggs and had managed a few tentative nibbles before Les' plate arrived and as the sight and smell hit, my stomach started to heave in sympathy with the ship's motion, and I barely made it up the three flights of stairs to open deck before losing the lot!
With Margaret gone, we now had a spare bedroom, and, after grandma Mary died in 1955, grandad Alf came to stay on several occasions. Mum used to complain that he always left the toilet awash; his aim being a little bit off, it appears that he used to hit everything but the toilet bowl! My recollections are of an old man who repeated the same stories endlessly, and who was a legendary snorer. Being in virtually the next room I was the one most subject to his nocturnal onslaughts which from a low rumble would build to nasal crescendo followed by a half-choking snort, then a moment of blessed silence before the whole thing repeated itself.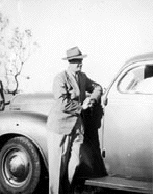 Les and "Katie"
In 1955, when I turned eighteen, I was successfully learning to drive on the driving school's FJ Holden, but after a few embarrassing tries could not manage the difficult gear change on the family 1939 Chrysler-Plymouth, registration number KT 954, affectionately known as Katie. Whereas the Holden had a synchromesh (manual) gearbox, the Plymouth had the type which required a technique called double-declutching when changing down from top gear to second.
The theory was to rev the engine a little in neutral during the change-down to try to match it with the revolutions of the gearbox in the lower gear. Failure to do this correctly resulted in a horrible grinding sound as gearwheels spinning at two vastly different speeds were trying to mesh. I failed miserably on several attempts becoming increasingly nervous with dad in the passenger seat trying to not to wince with each crash of the gears. Shortly after I got my licence, without saying a word, he traded the (albeit 16 year old ) Plymouth in on a new Ford Zephyr, a much lighter and driver-friendly car, and allowed me to use it for Saturday night dates, etc. We were all a little saddened to hear that Katie finished her career ignominiously in stock car races at the Sydney Showground.
Another reason for trading in poor old Katie was that a little earlier she had been in an accident. Les was driving south down George Street when he hit a weighted pole used to mark the tram stop at Liverpool Street, which went barrelling down the road some 100 metres from the impact. It was extremely lucky that there was no-one at the stop and that it didn't hit anything, however, Katie ended up with a badly dented right front mudguard. Smash repairers used to be called panelbeaters because they literally beat out dents in panels with a series of specially-shaped 'dollies' on one side and a hammer with a large flat head on the other. Anyway, Katie came back to us with the damaged mudguard looking larger and more bulbous than its mate, and Les was never completely happy with her after that.
Dad's wisest admonition to me was at age 18 to say that he and mum had set me an example all my life of how I was expected to conduct myself and that if it hadn't taken root by then nothing he had to say then would make any difference. "You are effectively on your own now", he said. That trust was a terrible responsibility to place on a teenager, and I tried to live up to it.
Then in 1956 television arrived in Australia. Our first set was a Thorn, and the initial transmissions were for only a few hours a day - black and white, of course - and if you stayed up really late till the end of transmissions, around eleven o'clock, you got to see the mummy kangaroo put her joey to bed and turn off the lights. After that you were looking at a blank flickering screen.
Some of our favourite shows were 77 Sunset Strip, and Hitchkock's Half Hour. On weekends dad always caught Sing Along With Mitch , being Mitch Miller and his all-male choir, when they would sometimes put the words and music of a song on the screen and you could 'follow the bouncing ball', and sing along with Mitch. Another great favourite of dad's was Shirley Abicair, the 'zither' girl, who was quite a looker and played an instrument on her lap remarkably like the wooden frame and stretched wires used by Italians to make spaghetti alla chitarra. On Sunday nights we would all watch Digby Wolfe's "Revue '56". At least once during this show there would be a routine with, for those times, scantily-clad highkicking dancing girls. I was nineteen and would have my eyes glued to the set, but poor dad would become embarrassed and, undecided whether to turn the set off at these times, assume indifference, or go and make a cup of tea.
These were the start of my university years. Six years of getting home at 10 p.m. three nights a week. And always dinner waiting for me when I arrived!
Dad had almost an obsession about washing-up after dinner. If, within five minutes of finishing dinner, someone wasn't in the kitchen, he would go himself and start rinsing plates. Sometimes it nearly drove us insane, especially if we had already started to watch something on TV.
Among Les' dental patients during the war years was a family whose the husband was an invalid and unable to work. Les treated the entire family and never asked for payment. During a routine extraction of an upper bicuspid, the wife suffered a pierced antrum. This is always a possibility with this type of extraction. Les attended her all that Easter weekend, syringing the socket and generally treating the wound, so was devastated when the family brought a suit against him for malpractice. The case took almost seven years to come to court and he had this concern at the back of his mind all that time. During the trial, the wife blatantly fabricated evidence to substantiate her case but was easily discredited as Les had kept detailed notes of all his procedures and treatments. The result was 'case dismissed' and the family had to pay their own costs.
On a late evening subsequent to that Bette awoke to find Les sitting near the Jeunesse model coke combustion heater in the dining room (affectionately known as the 'Essie' ) obviously distressed. When asked the matter, his reply was, "Those poor people. How will they cope." Those poor people had tried to ruin him financially for there was no thought of indemnity insurance in those days; yet he was concerned for their welfare!
The stress of the case took its toll, however, for in 1955, aged 53, whilst on a weekend away at Jack McGowan's hobby farm at Tahmoor, Les suffered a massive coronary occlusion and was rushed to Sydney by ambulance where he ended up at Dalcross Hospital at Killara for several weeks. It was a very serious warning to change his lifestyle and he took it equally seriously by immediately giving up smoking for starters. Then followed the change in diet to low cholesterol foods, and regular exercise. I think it was after this that he decided the golf might be a bit too strenuous and switched to bowls.
One of the occupational hazards of being a dentist - as far as the family was concerned - was that you could get away with telling the same joke or recounting the same anecdote for at least six months without fear of repeating it to the same patient. Not so for the family, and dad's attempts to launch into a joke were always greeted with groans of, "Not again, you told us that one last week!"
The real hazard of dentistry, however, was that long years of standing in a sort of twisted hunch over patients resulted in the right shoulder being noticeable lower than the left - and suit coats had to be suitably padded the cover up this deformity.
From the time he left school, John had been working at F. V. Richards & Co., gentlemen's outfitters, in Castlereagh Street, but by 1953 he felt ready to have his own store so Les put up half the money to buy Windsor Menswear from a fellow called Phil Ginsberg. It was located on the corner of Darlinghurst Road and Llankelly Place in Kings Cross at a time when Kings Cross still had a salacious reputation but nowhere near as sleazy as today. Dad insisted on it being a fifty-fifty partnership until the purchase price was paid back out of the profits. Some people felt this was a little bit harsh and that dad should have simply given him the capital, but dad had gone to a tough school, had to survive the depression years, and believed you didn't appreciate something unless you earned it. The same way, you never went into debt; if you wanted something, you saved up for it.
I worked at Windsor Menswear on Saturday mornings, ten shillings for three hours, when sometimes we took as much into the till in those three hours as had been taken all week. After leaving school, I worked there fulltime until 1957, looking after the shop all on my own in 1956 when John married Pat Turton and they went on their honeymoon to Orange for two weeks.
Some of the local identities in 'The Cross' in those years were:
• 'Bumper' Farrell - sergeant of police, who reputedly 'bumped' people's head together to knock sense into them.
• Abe Saffron - the Mr. Big in crime then (and also today?)
• Rosaleen Norton - the local witch, who wore green lipstick and green nailpolish!
• Gianni Battista - proprietor of the Grotta Azzurra restaurant on Anzac Parade who used to drive a huge Cadillac which scraped the ground as he took the corner into Llankelly Place, and who wore a white t-shirt under a double-breasted suit. He reputedly imported the very first pizza oven into Australia.
In the early sixties, Les took some financial advice and prudently began preparing for the future. He set up an investment company called Barden Investments Pty. Ltd. in 1964 and the first purchase was a block of four flats at Coogee opposite the cemetery. Around 1958, John and Pat moved into the ground floor front flat and John and I spent days scrubbing numerous coats of Kalsomine off the walls preparatory to repainting. There was a fairly prominent headstone in the cemetery which faced one of the front windows, and Trish used to humorously comment that 'Dudley' was keeping an eye on her.
Barden also held a 25% stake in Harcourt Neill, and after dad's death in 1977, we kids each inherited a quarter, which came in very useful; in my case paying for the boys' education.
In 1965, Les made his first and only overseas trip. The excuse was a Dental Congress in Canada and he extended it to Europe by including a visit to the Vita Lumen company in Germany which made a large range of false teeth, and was a major supplier to Halas and Harcourt Neill. Kath wouldn't accompany him because she probably remembered her first flight (to Brisbane with me) and was suffering a variety of complaints including hypertension and Parkinson's Disease -like symptoms brought on by longterm taking of blood pressure medication. For Les the highlight of the trip was a visit to Disneyland in the States, and he also passed through Rome where I was living at the time. This was before I had met Marisa. We went for dinner one night and Les learnt to ask for a 'birra fresca'. The next day we drove down to Naples and visited Pompeii.
In 1966, Marisa and I married in Rome, Philip was born in 1967, and in 1968 we decided to return to Sydney to "settle down". Philip, and later Paul and then Alex gave a new interesat and new lease of life to Kath and Les - for a while. But Kath, in particular, in particular was not coping well with her Parkinson's disease and Les was not as fit as he used to be.
In 1977, Les entered Dalcross Hospital a second time where he suffered a cerbral hemorrhage and died on 7th February aged 74 years.
Kath continued a desultory existence, becoming a semi-invalid as the Parkinson's took stronger hold, and relying more and more on Bette to do even the simplest things. Over the next eight years she was in and out of hospitals, suffered an aortic aneurism which nearly finished her , and eventually entered Longueville Private Hospital in 1985 where she succumbed from complications brought on by high blood pressure/Parkinson's on 27th April.
Both Les and Kath were cremated at Northern Suburbs Crematorium.