BRAGGER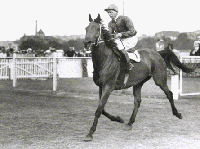 George Moore on Bragger
In 1943, with his career as a serious jockey cut short by an injury and by his conspicuous lack of success, T. J. (Tommy) Smith, in his early twenties, turned his attention to becoming a trainer instead.
'Bragger' was the name of a wild brumby - out of 'Windbag' an ex-buckjumper - he'd found out on an old paddock at Eulomo Station, near Cootamundra, where he'd gone to work for the Sawyer family after getting out of hospital. Even then, T. J. Smith fancied his own horse sense. "You can just smell a good horse", he used to say, and he immediately asked why this horse wasn't part of Max Sawyer's racing stable.
"Too wild," he was told. "Unridable. Anyway, we're going to shoot him."
Tommy wouldn't hear of it and paid old man Sawyer next to nothing for the wild'un and in between his other duties on the station began his attempt to break him in.
"In those days they used to have horse-breakers do that sort of stuff," he recounts, "but none of them could handle him so I did it myself".
"I got him in a yard and I could throw a lasso pretty good, and I got him, but, by Jove, it took me a month before I could get a saddle anywhere near him."
And another two years after that of solid training before he could get Bragger to the racetrack. Along the way, all the oldtimers said he was mad, and was wasting time and money. It was about this time that Les Noone was persuaded to take a one-third interest in his very first racehorse! Max Sawyer was also coerced into taking a third. Training was expensive, and but for Tommy's enthusiasm, Les might have pulled out.
Then, even when Bragger did get to the track, things didn't go smoothly. He bucked so wildly he pelted the jockey skywards, continued on the inside of the track, then back over the fence onto the track proper. Bridle flying, he bolted around the track, jumped a fence. and was out on the street!
Finally, after enough trials and tribulations to fill a racing bible, Bragger at last finished a race to come second. Then a third. Then a first! At 25/1 !!!
This was 6/4/1946, when Bragger won the Railway Handicap at Rosehill with George Moore as jockey. Tommy spent three days trying to talk Moore into riding him. Moore said that Bragger was too old to beat good sprinters, and that they would run all over him.
Smith didn't give up and rang Moore again on the friday afternoon before the race. Because Moore hadn't received any better offers, he took the ride; and was the first to admit his error of judgement when he brought Bragger back to the winner's circle after the race.
After this win, he ran in the Doncaster Cup at Randwick on the Easter Saturday, then south for the Wagga Cup, and finally up to Brisbane for the Doomben Cup in June.
Probably because of his age, Bragger suffered from weak legs, and Tommy used to apply a "miracle" liniment to take the soreness out. It was straight after one of these applications that he won the Minto Handicap at 15/1.
In a short time and being heavily backed by his owners, Bragger was suddenly a winner. Through Tommy's perseverance, Bragger eventually won thirteen races before being tragically burnt in November of 1946 when the horse float he was travelling in caught fire in Parramatta Road, Auburn.
He had bad burns to the legs and stomach and hung on for eleven days with two blood transfusions, penicillin (rare in those days), and soothing ointments. Tommy received 60 to 70 letters and phone calls from people offering to give Bragger a home if he recovered.
The End(?)