The results achieved by the main subsidiaries of this Australian Company can be summarised as follows:
Heron's Creek Timber' Mills Pty. Limited

This company has continued to supply a major proportion of the mine timber requirements of the Zinc Corporation and New Broken Hill Consolidated. Bush fires generally caused considerable damage to forest areas in New South Wales during the year, but, thanks largely to the vigilance and efforts of the Company's employees, only trifling damage to the Company's property resulted from fires in adjacent areas.
To ensure their original supply of timber, the Company purchased a property known as Butlers for 14 shillings an acre, which extended on either side of the Pacific Hwy. at Sapling Creek to the edge of Bonny Hills, and was heavily timbered at the time. This property has been well-managed and today contains an enormous growth of almost millable timber.
At one time, when working at a mill, he broke his arm in nine places and pulled it out of its socket. His version of the story is that he was standing near the driveshaft under the mill and had a rope tied to his wrist when a workmate walking on the other side of the shaft gave him cheek.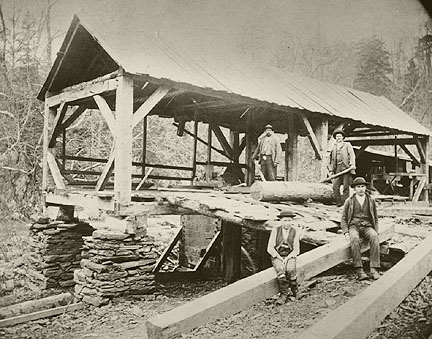 TYPICAL DONKEY ENGINE SAWMILL
He threw the rope at the chap and it caught around the shaft winding him up and over it. Luckily the enginedriver was watching and stopped the engine. Bear in mind that the 'engine' was a steam donkey engine with a huge flywheel which carried a long leather belt which in turn went around another flywheel on the driveshaft.
Around this time he shifted the entire family to Newcastle as there were more job prospects for his boys, while Alf travelled backwards and forwards from Heron's Creek at weekends. During this time he opened a timber yard at Broadmeadow and secured lucrative contracts from NSW Railways for sleepers, which business, however, fell off during the Depression years. At this time Alf saw an opportunity with the Zinc Corporation at Broken Hill which was having difficulty sourcing oregon for timber shoring the mineshafts. He managed to persuade them to use local hardwood in place of the imported oregon.
The demand for mining timber was so great that Alf then established two more mills at Camden haven, buying jack Steinmetz's mill at Kendall, and building another one at Lorne. These mills had access to good blackbutt timber stretching from the ocean to the foothills around Comboyne. Five acres of land for a mill at Broken Bago was leased from Herbert Duck of Heron's Creek on 24/2/1926 for a payment of 10 pounds a year!
After his own earlier experience, Alf was always concerned about safety in the mills and would remonstrate with any unfortunate employee who had an accident, telling him it was "jolly carelessness". One day while rushing around the mill he stepped on a loose floor plank which flew up and caught him in the face, damaging his tongue so that he couldn't speak for a few days. The employees took advantage of his temporarily mute state, taunting him with, "jolly careless, Mr. Noone"!
After about 6 or 7 years of this the family moved again. This time back to Heron's Creek for several years and then a "final" move to Port Macquarie.
With all those moves, you can see why he was called a bit of a gypsy!
My earliest memories of Alf Noone stem from my very first car trip to Port Macquarie to visit the grandparents, aunts and uncles, cousins etc. I was around 12 at the time and it was early in 1950. In those days there was no bridge at the Hawkesbury River and a ferry carried cars from Brooklyn across to the Mooney Mooney side. Signs on both sides advertised 12-15 miles of winding road and as I was acutely subject to car sickness, the mere sight of these was enough to start me retching - and reaching for the brownpaper bag provided by thoughtful parents.
The journey involved a short drop in to New Lambton (Newcastle) where I was most impressed to meet a cousin on horseback who was simply called "Boy" and who had a sister called "Girl"! This seemed to be the spreading influence of Grandad Alf. They were actually called Daryl and Doreen!
After about 10 hours on the road, next stop was Taree, for another set of aunts and uncles, where we spent the night before going on to Pt. Macquarie the next day. (Note that you can now drive to Pt. Macquarie comfortably in 5-6 hours!)
At the time, Grandad and Grandma Noone were living in a modest weatherboard cottage (see photo), the latest of their many residences. It is said that he later on owned an entire row of cottages at Pt. Macquarie!
He took us out to see a bush sawmill. This type of mill was dismantled and reassembled in the actual forest being logged, moving deeper into the forest as the trees were felled around it. Tree-felling itself was an arduous job; axemen would make a large
v-cut in one side of the trunk and then the other side would be attacked by two men with a huge crosscut saw (later on with a very long chain saw). All of this taking place around two metres off the ground, the men standing on metal-tipped palings expertly slotted into axe cuts in the bole of the tree. After felling, the branches were lopped off and the trunk was dragged by bullock team in the early years and later by tractor, to the forest mill for trimming, squaring and sawing into planks.
Grandad drove an old Essex in those days and the visit to the mill was quite alarming as, at one point, he suddenly left the dirt road we had been travelling on and went bounding across and around fallen logs and tree stumps with great abandon and little regard for springs or the comfort of passengers.
Being in the forest, the mills were very vulnerable to bushfires, and were burnt down on two occasions.
Uncle Ken was also employed at the Mill. He was what is called a saw doctor and later mill managed Charles Fenning's mill at Kew.
The logs were ripped lengthwise by huge frame saws up to 2 metres in length and cut into planks by large circular saws and it was the job of the saw doctor to ensure that the blades were not only sharp but balanced as an out-of-balance blade would cause a lot of vibration and could damage itself and the machinery, not to mention the operators. I remember that his tools, apart from tooth pliers and files, included a small hammer and tuning forks, as the balance of the saw blade was tested by the purity of the note it gave out when struck with a hammer.
Uncle Bart was manager of the mill at Kendall and Uncle Leo was logging supervisor and contractor.
Some of the major contracts of the mill were the supply of tunnel shoring timber for the BHP mines at Broken Hill and hardwood sleepers for N.S.W. Railways. The mill also supplied all of the beautiful cedar that went into the pews of Port Macquarie Catholic Church.
Alf's active interest in the Heron's Creek Mill ceased about 1947 ( he was 69 years of age!), and his shareholding was sold to the Broken Hill Zinc Corporation shortly afterwards. The Mill is still one of the biggest on the North Coast and owned by Conzinc Riotinto.
It was about this time also that Ken and Leo 'retired' and acquired a hostelry at Kew which they renamed "Noone's Royal Hotel". They operated this for many years. With the hotel they also become owners of a large tract of land on the Kendall side of the Highway which is now occupied by the Camden haven Golf Club.
Grandad retired to Pt. Macquarie and his main sporting interest was bowls. He owned a wooden clinker-built launch with a put-put inboard engine for fishing on the Hastings River and also had an involvement in some oyster leases. Over the years, he would send some down to Sydney on the train in a dampened potato sack. Mum was crazy about oysters and it became my job to open them - several dozen at a time. The excuse was that you could only keep them in the wetted down sack for maybe a week, so they had to be eaten quickly!
There is a story that Alf suffered from 'Plantar Fasciitis', a painful growth of calcified matter on the heel bones. And it is said that sometimes in desperation he would belt them with a hammer! The story continues that Grandma used to massage them with a preparation called 'Jacob's Oil' and that after persistent massaging they eventually disappeared!
He used to come sometimes to stay with us at Northbridge. This must have been around 1950 and onwards. He would come down to so to the Royal Easter Show, spend four days walking around the Show, and then go back. My memories are of an old man who was full of stories which he repeated endlessly, and who snored loudly in a rising and falling crescendo which kept me awake at night. It was during one of these visits that he became famous for saying to some guests who appeared to be overstaying, "Well, I think I'll go to bed now and let these good people go home".
His driving exploits in later life are legendary. At one time he is supposed to have driven uncle (Ken's?) new car from Newcastle to Pt. Macquarie with the handbrake full on and complained on arrival that the car didn't pull very well! Another time he was towing a caravan (they were made of threeply wood in those days and splintered very easily) when he turned a corner but the caravan didn't. On another occasion he fell asleep at the wheel and missed a bridge almost finishing in the river below. When the police arrived to find the car teetering on the edge he is rumoured to have said, "some silly bugger was coming at me on the wrong side of the road, and look what I had to do to avoid him!"
Grandad Alf had many such 'near misses' and probably led a charmed life.
In April of 1953, Margaret went to say goodbye to them both before entering the Novitiate. There was a heavy fog when Alf was driving her back to the station and at one point he came to a sudden stop with grandma lurching forward in the passenger seat. When asked he insisted that nothing was wrong, but at that moment there was a loud 'moo' coming from a cow that was almost sitting on top of the radiator!
In her latter years, Grandma Mary's sight was failing and Alf used to read the newspaper to her. He used to deliberately read out all the grisly murders and other grim goings on which were precisely what she didn't want to hear about!
Grandma Mary, died on 15/5/55 and some years after that Alf moved to Budgewoi where he remarried to a widowed lady called Irene Frances Sanquinati. The Sanguinati had been family, card-playing, friends in Port Macquarie. The rest of the family members were scandalised but Grandad's comment, always the larrikin, was that it was cheaper to marry her than to pay her as a housekeeper. She died fairly soon afterwards in 1961 and he then moved in for a while with Aunt Reta who was married to Hubert Arnold
In his later years he became too much of a burden for Hube and Reta who ran a grocery store and my father, Les, arranged for him to go to the St. John of God Hospital at Richmond.
He died on 7/8/66 at Richmond and was buried at Pt. Macquarie on 9/8/66.