TIMBERGETTING AND SHIPBUILDING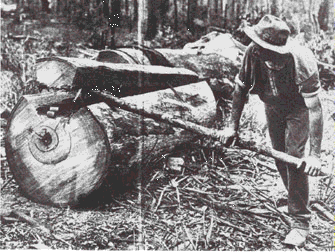 A SLEEPER CUTTER

And so Martin found himself involved in timbergetting.* Firstly in helping to clear away the brush and undergrowth, and 'grubbing-out' saplings, then helping the 'bullockies' to haul out the big logs and stack the rubbish into piles for burning. It was hard backbreaking toil in the unaccustomed heat of the Australian sun, but Martin loved both the work and the easy camaraderie of his newfound 'mates'.

*A timber licence was issued to Martin 1871-72 (Wingham Chronicle and Manning River Observer 13/2/1934)

The Manning River cedar camps were dependant on little coastal vessels for supplies and provisions. When these didn't arrive because of the dangers and difficulties inherent in crossing the bar at the mouth of the river, fish had to be caught or obtained from the local aborigines and kangaroo and birds had to be shot for camp pot stew. Fortunately, these sources of natural protein were plentiful.

Simple huts were hastily erected for the families of the cedar cutters. Life was harsh, plain and monotonous for the women who waited patiently for their menfolk to return at dusk from the dense brush exhausted from the day's heavy physical work. The usual diet when supplies were available was simple: corned meat, damper (made from wheat flour), and tea. Vegetables and fruit were simply not readily available and consequently not on the diet. The temporary camps were fairly small, consisting of about eight or ten huts or tents, although some became small communities as the industry developed.

The cedar men usually worked in groups or pairs. In the dense undergrowth the cedars trees were at times difficult to locate. They frequently had to rely on the assistance of aborigines who were rewarded with supplies of tea, flour, tobacco and rum; and often helped with the work itself. Cedar getting was a rugged occupation and the dangers were many. (The Struggle Against Isolation 1987 by John Ramsland)

The itinerant cedar getters were not generally very highly regarded, and their camps were described by John Dunmore Lang, the Presbyterian leader, as "scenes of beastly intemperance". He went on to describe their cabins as 'miserable', their wives or women as 'dirty and forbidding', and their pale and unhealthy children in the last stage of 'squalor and filth'. A slightly less judgmental observer, Jervis, describes them as "Hard livers, hard workers, hard drinkers and hard swearers" who nevertheless played a useful, if not vital, part in the development of the region. In fact, these men were the unsung pioneers of the Manning who first opened up the country for others to follow. (The Struggle Against Isolation 1987 by John Ramsland)

One can expect that, for Martin, any hardship was as heaven compared to his life heretofor.

The government of the time made feeble attempts to plan village and town locations in the Manning without much success in the early stages. The site of Wingham was basically chosen because it was the western limit of navigation of the river as well as being reasonably close to a large number of farming residents.It was the natural place for the development of a commercial wharf for the transportation of farming and agricultural produce to Sydney; initially via punt down river to Taree then by sailing vessel to Sydney. Later the river was dredged right up to Wingham enabling steamers and coastal vessels to collect produce direct from Wingham. (The Struggle Against Isolation 1987 by John Ramsland)

By the end of 1866 much had changed; there was a reasonable weekly steam navigation service to Sydney, a number of churches had been established, there were several post offices operating in the district, a local bank branch had recently been opened as well as a District Court at Wingham, and a newspaper was operating.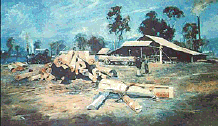 TAYLOR'S SAWMILL, WINGHAM

July of 1866 saw one of the greatest floods in the history of the Manning. It swept down the valley drowning stock, destroying crops, and washing away barns, houses, wharves and shipment stores. It was accompanied by gale force winds which uprooted trees, damaged buildings and caused the wreck of the 'Eclipse' with the tragic loss of its entire crew on the open sea. Downriver there was a trail of destruction, many being left homeless and losing all their possessions. Through the tragedy the communities of the valley were brought closer together for the first time. (The Struggle Against Isolation 1987 by John Ramsland)

In 1866 Taree had a town population of 150 people, a post office, a court house, a tobacco factory and three hotels - the Caledonian, Dove Inn and Windsor Castle but a townsite for Taree was not proclaimed officially until 1885. Cundletown too had a population of about 150, with a post office, law court, four general stores and two hotels. At Wingham there were about 90 people and the District Court.

* * * * * * * *

Contact was maintained with Quigley who, on 9/10/1862, acquired 51 acres of uncleared land at Koorainghat Creek in the Kiwarrak Forest situated about halfway between Nabiac and Taree. Shortly after this he moved from Crown Lane in Sydney to Purfleet on the south side of the Manning River from Taree. It is possible that Martin was either engaged by Quigley or in partnership with him to fell whatever timber was on the land, and during this time he had occasion to renew his acquaintance with Mistress Ann Quigley who was now a desirable young woman of eighteen years.

Later, following a demure courtship Martin and Ann were wed on 6/3/1865 at Cundletown (Taree) Catholic Church with Martin Quigley there to give the bride away and witness the marriage certificate. Note that on the marriage certificate is the first time we see Martin spelling Noone with the final "e". Was this an affectation or a correction of earlier clerical blunders!

Quigley had originally paid 90 pounds 10 shillings for the land at Koorainghat Creek in 1862 which he now sells to our Martin, two months after the wedding, for 55 pounds. Either property values had fallen or this was a fairly generous wedding present. Martin and Ann never lived at Koorainghat, but continued to reside at Belbourie until Alice was born on 12/12/1865; and William was born in 1867.

(Place of birth of William is given as Dingo Creek, which is another name for the Belbourie district)
It should be noted that, in 1864, the Noon(e) presence in the Manning had been augmented by the confusing arrival from Geelong, Victoria of a George and Isabella Noon and their nine year old son, George William. In April 1882, George William married Elizabeth Wyatt at St. John's Church in Taree and, by the time of his death in 1927, left behind three sons and one daughter, and eleven grandchildren.
Following the timber trail, Martin, Ann, and the two children moved to Wallamba River for the birth of John in 1871; followed by James in 1872, Edward in 1874, and Mary Ann in 1876. On 1/6/1872, the land at Koorainghat was sold to a Samuel Shawcross for 80 pounds. A handsome profit useful to support a growing family.
By the early 1870's, there was a growing need for more ships to carry the precious timber to its destination, Sydney and beyond. People are usually quite surprised to discover that over 90 major sea-going vessels were constructed and launched in the Port of Cape Hawke. Shipbuilding in those days meant being close to good timber, with the necessary tools and men. The timber mills were a ready source of good men used to handling timber so it made sense to build the slipways close to the mills and launch the ships from there. One timber mill had been set up on the west side of Wallis Lake at Freshwater Creek, near Coomba, by Hugh Leslie who, in 1872 built and launched probably the first ship to be built in the area. The 43 ton ketch, "Confidence". He was joined by an immigrant from Germany, Leonard Steinmetz, who, apart from bringing knowhow to the business, married Leslie's daughter, Jessie, in 1873.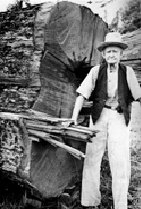 Now Martin is giving his address as Cape Hawke which, it must be remembered, stretched anywhere from the Cape to Nabiac in the north, and west to include the Wallamba and Wang Wauk rivers. There is good reason to believe he joined with Steinmetz who, over the following years, from 1875 to 1883, launched four ships, the "Whaup", "Jessie Matilda" (after his wife), "Petrel", and "Annie". Meanwhile, Jessie had been set up as the publican of the Forster Hotel and they had also acquired 200 acres near the town on which they ran 4 horses, and 30 head of cattle. It was at Cape Hawke (Forster/Tuncurry), on 5/9/1878, that our grandfather Alfred was born, followed by Catherine in 1880 and Magdalen in 1882.
Note that Catherine was almost certainly named in memory of Martin's sister, Catherine, who had died a lonely death from (pneumococcal?) meningitis in the Hyde Park Asylum in Sydney on 23/6/1880.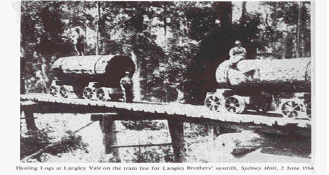 On On 4/3/1885, John, was crushed to death by a log rolling on him at age 14 whilst helping to load a barge at the Cedar Depot at Bennet's Head (Forster)
Martin died on 7/6/1890 at North Forster (now Tuncurry) at age 50, of Chorea and is buried in the cemetery there - although there is no trace of a headstone. Martin's Chorea was almost certainly today's Huntington's Disease which is a dominantly inherited disease. The onset can occur from childhood into later life, but usually in the mid 30's or mid 40's. Symptoms are an initial tendency to fidget, which develops into uncontrollable jerky movements. There is no known cure, even today, and progression is relentless, ending in death in 10-20 years. So it is quite possible that Martin had been exhibiting symptoms for many years before his death . Who knows but his early famine years, and the time spent in the workhouse may have exacerbated or accelerated his condition.
Ann survived him and lived on until 1/9/1906 where she died at Krambach, and was buried in the cemetery there on the following day.