MARTIN IN NEW SOUTH WALES
Each day brought more revelations of what might or might not have taken place during this now infamous voyage with long articles in the SMH almost every day, and to admit you were a passenger off the Stebonheath was to reduce your employment chances substantially. On 25th March, the Dean of St. Mary's, the Rev. D. V. M. O'Connell, who had been present during the Board inquiry, felt compelled to write to the SMH, "As I am a daily witness of the loss and wretchedness caused . . .to many deserving persons by foul suspicions, to say the least, with which they are insulted in their efforts to obtain an honest livelihood I am induced to hope that the conscientious judgement of a clergyman who heard the whole evidence in the case, may prevail in some measure against the vague, wholesale condemnation in which the unfortunate immigrants have been involved. It would be a folly to suppose that in so large a number of persons, collected from all quarters, there are not some who have misbehaved themselves during the voyage; but that the voyage of the Stebonheath had been disgraced by any immoral amount of misbehaviour on the part of the immigrants, I submit my own conviction that there was no shadow of proof." He added then a rather damning indictment of the matron, " It would be some check to the mischief caused . . if Miss Chase were induced to repeat publicly the evidence she gave before the Board, which . . . conveys so palpably different an impression from that . . given at the inquest on Ann Cox." "Until the whole truth shall be satisfactorily ascertained and declared on reliable authority, it is the single duty of every one to stay at least the exaggerations and the rankling of uncharitable judgement."
What follows now is pure invention, but there has to be some way to connect our Martin with Martin Quigley of Chippendale, his future father-in-law.
It is not unreasonable to conjecture that in looking for support in gaining employment, Martin may have consulted the Sands Directory (the 'Yellow Pages' of the time) where he would have come across a Martin Noone, dealer, of Redfern – even though he was still spelling Noon without the final 'e'.
Who was this other Martin Noone?
Born in Dublin in 1817, he is a possible but improbable relation. The Noone surname appears to have originated far from Dublin in the west or Ireland around Co. Roscommon and Co. Sligo, and people of those times rarely travelled beyond the confines of their own villages – unless compelled for reasons of work.
He arrived in Sydney sometime prior to 1843 at which time he married an Ann Flack who was 18 years his senior. Their first and only child, Mary Ann, was born in the April of 1845 but died of croup on 27/9/1851 in Waterloo St, Chippendale. In 1871, Martin paid £140 for a house still standing in Thomas Street, Chippendale, where he died aged 57 years on 12/1/1874. Ann died from bronchitis at Fitzroy Street, Chippendale on 1/4/1876, and the two are buried side by side at Rookwood Cemetery.
We can only guess at what might have taken place at this initial meeting of the two Martins! Definitely, each would have plied the other with questions; one asking how bad things were back in Ireland what with the famine and all, the other asking about life in the colony and what prospects there were for gainful employment what with the Stebonheath affair still raging in the newspapers. I would like to think our Martin had a good head on his shoulders and, apart from that, was still young enough and traumatised enough by past and recent events in his young life, to listen to an older head.
Sydney was in the grips of gold fever; the SMH of Saturday 13th March 1858 had carried this article, "The newly discovered gold-field near Tenterfield promises to be fairly tested. The richness of the soil has been sufficiently demonstrated to attract hundreds of diggers from other localities; and if the reports that have reached us are not exaggerated, it will be a long time before the wealth of this spot is exhausted. For some time past short paragraphs have appeared in the papers to the effect than an American prospecting party that had been scouring the country had pulled up at the Boonoo Boonoo Creek, and commenced working; . . . and the result has justified their shrewdness."
Martin knew absolutely nothing about prospecting, but talk of gold was rife and the temptation was there – especially as other job prospects seemed to be dwindling daily.
Elder Martin speaking, "Forget the gold, sonny, 'tis a fool's errand. Land is the thing. The land always repays those who treat her well and respect for the land is what you were brought up on. Of those fools rushing off to dig, you only hear of the one in a hundred that makes a strike. The rest end up scratching out enough 'colour' for a miserable existence hovering between hope and despair, or end up crawling back to the city, destitute broken men. You've seen the waving fields of barley and wheat back in Ireland and you know how to work the land and to look after animals. There are grave shortages of farm labour and good wages to be had but you'll have to be prepared to travel a long way from Sydney and this means saying goodbye to your sister, Catherine, for what could be a long time."
Now, the elder Martin lived in Chippendale and had a business in Redfern, and our Martin's future father-in-law lived in Chippendale! I'm surmising the following scenario with Martin senior, "It so happens, I have a customer, Martin Quigley, who has a property up north. His brother has the pub on the corner of George and Liverpool Streets in the city, and the family runs a bus service to the eastern suburbs. (both true) I'll talk to him and he may be prepared to give you an introduction for without a commendation you'll get nowhere in this city, not with this Stebonheath business still running in the newspapers."
So a meeting was arranged and Quigley, liking what he saw and wanting to give a fellow Irishman a fair go, gave Martin a letter of introduction to James Hawthorn who had received a grant of 67 acres at Belbourie, a district southwest of Wingham, bounded by GloucesterRoad, Glenyarra Road and Dingo Creek. (In the local Biripi dialect, "belbourie" means a place of mourning.)
Quigley was married to Sarah Godfrey and the couple had one daughter, Ann who had been born in Chippendale on 2/6/1844. She would have been no more than 14 when Martin first came to the house, but already caught the eye of this impressionable 18 year old, even at that early stage. Hawthorn was written to and following a favourable reply, within a few weeks Martin left Catherine and boarded the coastal steamer to Taree and Wingham and a strange sounding place called 'Dingo Creek' . It was not until his arrival and settling in that Martin came to understand that 'farming' in that area of New South Wales was little more than the subsistence farming he was used to in Ireland, but on a grander scale with much poorer soil.
The early settlers were often confronted with dense scrub covering amongst the taller forest gum trees. Land had to be cleared first before crops could be planted and pasture improved before livestock could be brought onto it. Trees were felled by axe and any useful timber was hauled away to the local sawpits for the booming Sydney building market. The heaped up rubbish was burnt and the charcoal and ash spread to improve the soil for the planting of vegetable crops.
Sparse settlement was not really encouraged in these early days of the colony as it was in the best interests of the administrators to be able to police, and thus control and regulate, the movement of settlers out of the Sydney Cove region. The limits of travel in a northerly direction had been set down in 1826 as Cape Hawke (Forster-Tuncurry), extended to the Manning River in 1829, and to Port Macquarie in 1830.
By this time the timbergetters were sailing the coastline cutting down the cedars and, although they were only permitted to construct a hut and were forbidden any sort of improvements or cultivation, settlement of a more permanent nature was fast approaching the area. (From "The History of Failford and the Wallamba River District", Daryll Morgan 1987)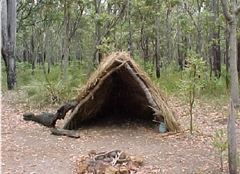 Typical timbergetter's hut